Safety Town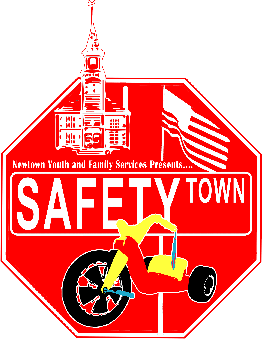 Week 1 Dates: July 27 - July 31, 2015
Week 2 Dates: August 3 - August 7, 2015
Location: Newtown Youth & Family Services, 15 Berkshire Road, Sandy Hook, CT 06482
Newtown Youth & Family Services, Inc., will be offering a week-long program for children entering kindergarten called "Safety Town" in the summer.
Safety Town is a national program that was developed in 1964 to teach young children important information on traffic safety, fire safety, water safety, bus safety, bicycle safety, awareness of medicine and poison and awareness of strangers. All safety topics will be taught in collaboration with local community and health agencies.
This one-week program will cost $25 per child, though financial assistance is available. There will be two one-week long sessions held during the week of July 27th and August 3rd. Sessions will run Monday through Friday from 9:00 am to 11:00 am with snack included. Safety Town will be held at the Newtown Youth & Family Services agency located at 15 Berkshire Rd., Sandy Hook, CT 06482. To register, please call 203.426.8103 or contact Jen Brainard.