Safety Town Summer Camp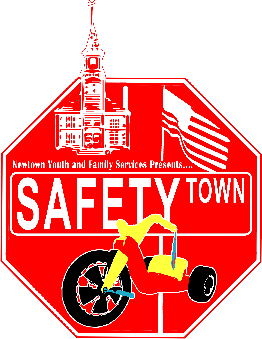 Newtown Youth & Family Services, Inc., offers a week-long program each summer for children entering kindergarten called Safety Town.
Safety Town is a national program that was developed in 1964 to teach young children important information on traffic safety, fire safety, water safety, bus safety, bicycle safety, awareness of medicine and poison and awareness of strangers. All safety topics will be taught in collaboration with local community and health agencies.
TO REGISTER FOR SAFETY TOWN 2018
PLEASE VISIT OUR PROGRAMS PAGE
SAFETY TOWN 2017
On behalf of NYFS, we would like to thank all of our sponsors, volunteers and program participants for a very successful Safety Town 2017! The kids learned a lot and left each day with a new reason to why practicing good safety is important. A special thank you to our sponsors and volunteers for making these two weeks important for our soon to be Kindergartners! Each of you played a vital role to the success of our program.
Sponsors and Volunteers:
AAA of Southern New England for teaching traffic, pedestrian and car safety
Newtown Prevention Council
AMR out of Waterbury for teaching basic first-aid
All-star Transportation for teaching us basic bus safety rules
Newtown Police Department: Officer Chapman and Officer Flynn for teaching bicycle safety and learning '9-1-1' and much more!
Newtown Parks and Recreation or teaching water safety
Pat Brady for making safety 'town'
Porco's Karate Academy for teaching stranger danger and how to be a good friends
Stew Leonard's and Stewie the Duck for teaching us water safety and for the books donated
Sandy Hook Fire Department for teaching fire safety,
Newtown Prevention Council
Don Ramsey